I received a coupon code. How do I apply the coupon code?
Go to your Shopping Cart after selecting the item(s) that you would like to order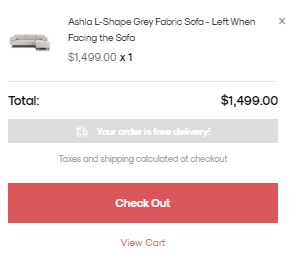 Under the Discount Code field (located below the product thumbnail), please enter the coupon code you have received from Megafurniture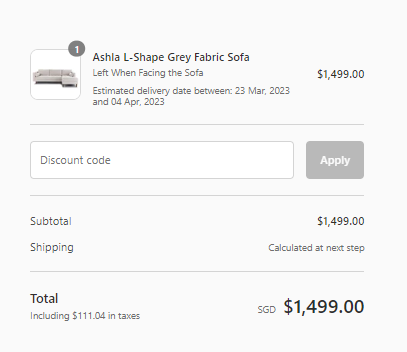 Click on "Apply" to enjoy the discount!

Related Articles

I am unable to use my coupon code on certain items. What's wrong?

Kindly check the T&Cs of the relevant promotion that you've received as it may not be applicable to the item(s) you're purchasing. Some problems that may have occurred are: Insufficient minimum spend on qualifying items in cart Discount was requested ...

I've received a wrong product. What should I do?

We are sorry that you've received a wrong product. Please inform our delivery team upon receiving the wrong item(s). Similarly, please email us at enquiry@megafurniture.sg, call our Customer Service Hotline at +65 6950 2657 or click here to WhatsApp ...

I have received a faulty product.

Should you receive goods that are damaged, faulty or incorrect, we will provide you a replacement or repair of the product. Do email or whatsapp the images or video of the faulty product to us at enquiry@megafurniture.sg or +6569502657. If the spare ...

My order originally contained a combination of items which qualified for Free Delivery. If I reject an item which voids the Free Delivery combination on the spot, do I have to pay for delivery?

Yes, relevant delivery charges will apply.

Do you have instalment plans?

We do have interest-free installment plans. For Showroom: We offer 6 months, 12 months, and 24 months installments for Standard Chartered Credit Card Holders. You can choose to pay via ShopBack PayLater, PayLater by Grab, Pace, or Atome through the ...